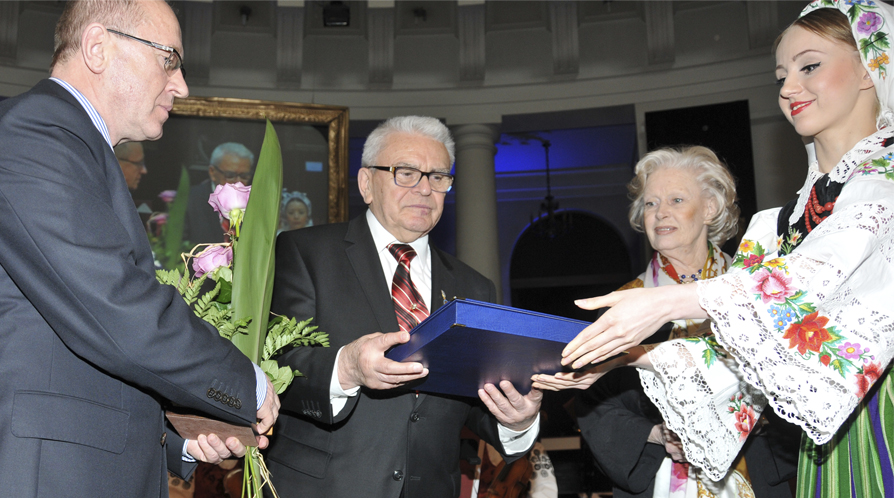 The Foundation for Children "Help on Time", on the motion of patients, bestowed the awards and distinctions in the Prof. Zbigniew Religa Competition for the outstanding physicians and exemplary health care institutions. The gala took place on May 14th, 2013 in the Porczynski Gallery. During the ceremony have been presented also the Distinctions and Special Awards. Luster to the ceremony added the concert of the eminent opera soloist, Ms. Małgorzata Walewska and the choir and orchestra of the 'Mazowsze' folk group.
The Special Award and Medal of Prof. Zbigniew Religa received Prof. Henryk Skarżyński for his empathy, respect and dedication towards patients and great achievements as a physician and as a manager. The award has been presented by the President of the Foundation, Mr. Stanisław Kowalski, Chairwoman of the Program Board Ms. Beata Tyszkiewicz and Senator Prof. Alicja Chybicka.
The Institute of Physiology and Pathology of Hearing has also been awarded, receiving a distinction 'for unique achievements in the comprehensive treatment of patients with sensory handicap'.
Gala has been combined with the Mothers' Day celebrations. The exceptional mothers of the children under foundation's care have also been honored on that occasion, as they every day, with unceasing perseverance battle for the health of children.
The mission of the Foundation for Children "Help on Time" is to implement the 'Help on Time' program under the patronage of Prof. Zbigniew Religa. The central idea of this program is to rescue the lives of endangered children, bring them back to health, support their education, and help to improve their difficult economic situation. Ms. Beata Tyszkiewicz, as the Chairwoman of the Board of the Foundation, supports and promotes the mission. The foundation provides care for over 21 000 children suffering from the cerebral palsy, congenital heart diseases, autism, Down syndrome, MD, epilepsy or tumors. Foundations helps sick and handicapped children from the whole Poland, mostly the children from poor families.